Get creative this holiday season and have yourself a DIY Holiday with these simple tips for decor, recipes and winter safety!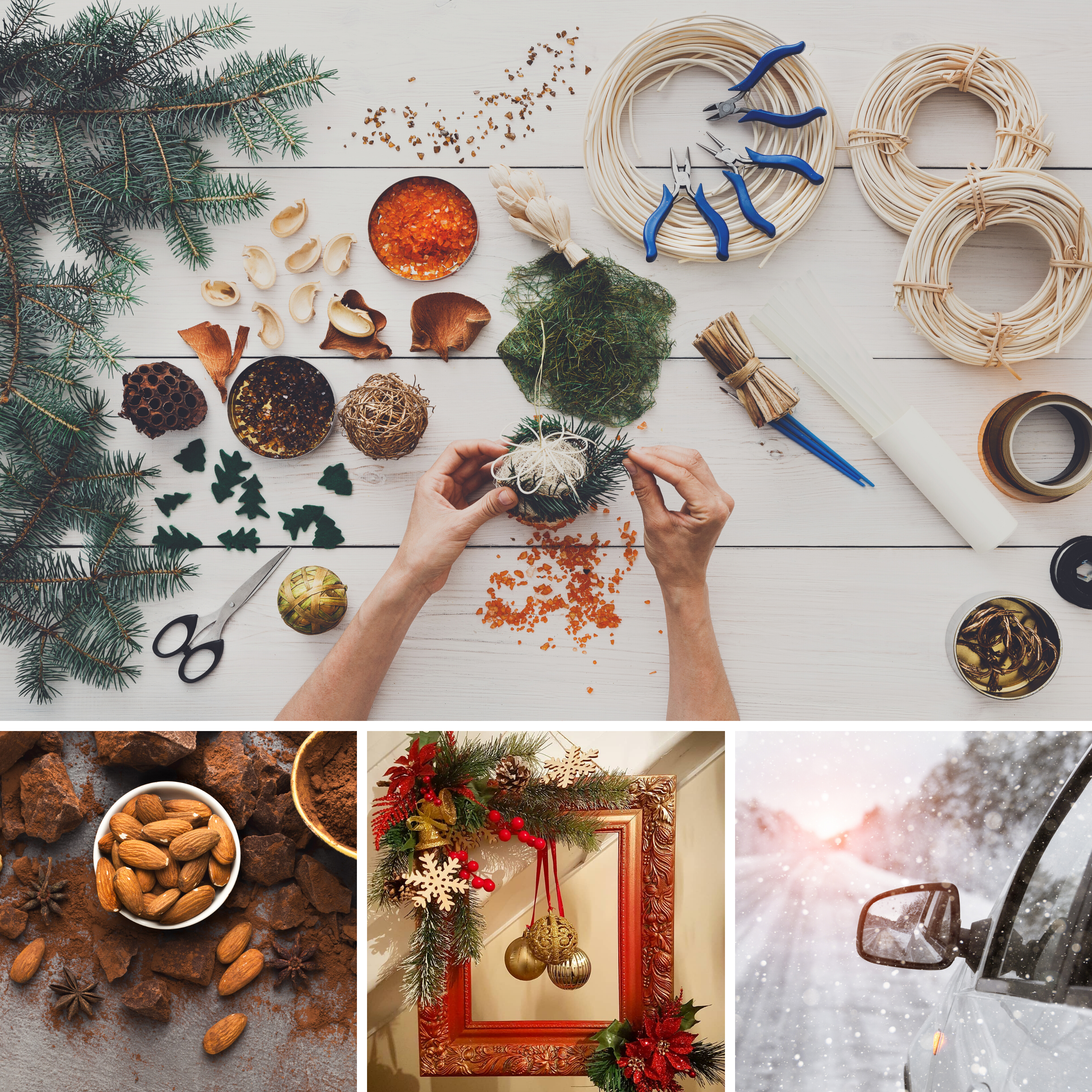 Peppermint Chocolate Almond Clusters
Ingredients
2 cups raw whole almonds
12-ounce bag of Almond Bark or baking chocolate
½ cup of crushed candy canes
Prep time: 10 minutes
Impress your guests with this 3 ingredient dessert. Just pop the chocolate in a heat-safe bowl into the microwave for two minutes. Stir and repeat for 30 second increments until smooth and creamy. Add almonds and stir until completely covered. Using an ice cream scoop or ½ measuring cup, spoon the mixture onto parchment paper or into cupcake cups. Take your crushed candy canes and sprinkle a tablespoon over the top of each cluster. Place in the fridge and cool until hard. If peppermint isn't preferred, you can use coarse sea salt to make it a salty-sweet treat instead. Once the clusters are no longer soft, put them in clear holiday bags or bring to a party on a serving platter and enjoy!
Picture Frame Wreath
Change it up this year and replace the standard Holiday wreath with a picture frame wreath! This easy to make decoration can be made with recycled items in your home and you can even involve the kiddos with this craft. All you will need is a combination of the following:
Picture frame of any size or color
Red, green, gold, or silver paint or spray paint if you want holiday colors
Ornament baubles
Twine or ribbon
Hot glue
Bows, pine cones, mistletoe, bells, silk poinsettias, and or foliage
Remove the glass and backing so that just the frame remains. After you have let the paint dry on the picture frame, attach varying lengths of ribbon or twine to the baubles and hot glue the ends of the twine to the back of the frame, just below the hook. You can get creative with the next part! Using hot glue, add bows, mistletoe, holly, pine sprigs, pine cones, words, and or bells to one or two of the corners of the frame. For inspiration, check out these Pinterest examples. You can now hang your new wreath on your front door, above your mantle, or anywhere you choose in your Morguard apartment!
Defrosting Spray
Winter brings safety concerns and we don't just want to give you DIY decor ideas. It is important to be prepared for all the hazards that come with winter weather, like frost and snow. To avoid slipping on ice and being late to work because you are waiting for your car to defrost, keep a spray bottle handy with this simple solution.
⅔ rubbing alcohol or Vodka
⅓ room temperature water
Mix the solution together in a spray bottle or bucket. Spray or pour on concrete or your windshield and watch the ice instantly melt away. Because alcohol has a freezing temperature of -138 degrees, you can leave the bottle in your car and it won't freeze. Check out more DIY safety hacks here.
Enjoy decorating your Morguard Apartment Home with your new wreaths and fill your kitchen with the sweet smell of Peppermint Almond Clusters. Stay safe and warm, and remember to enjoy your holidays this winter!