Morguard is committed to providing an exceptional living experience, and we want our residents and team members to have an exceptional Thanksgiving experience too! We've put together a few hosting tips to help you feel less stressed and more prepared for Thanksgiving this year.
Be Prepared
Plan ahead! Start by creating a guest list and find out who's coming. This will help you have a headcount so you can plan a menu and look up recipes (we've included one for you below!). As a thoughtful gesture, ask each guest what kinds of snacks and drinks they prefer, so you've got something for everyone. An easy way to do this is by creating a Facebook event. Check out this how-to video that walks you through making a private event on Facebook. It's also essential to plan ahead for the oven as different dishes require different temperatures and cooking times. You don't want the Thanksgiving turkey to be undercooked because the green bean casserole needed to be warmed up!
A Plan for Shopping
The great thing about living at a Morguard community is that you'll have ample pantry and storage space and can stock up ahead of time, so you don't have to shop with the masses. Make sure to grab lots of drinks and easy snacks like chips and dips. Your guests will thank you if you lay out some hors d'oeuvres while they wait for dinner to be served. Pro tip: Don't forget to buy plenty of eco-friendly Tupperware options for leftovers, or ask your guests to bring their own.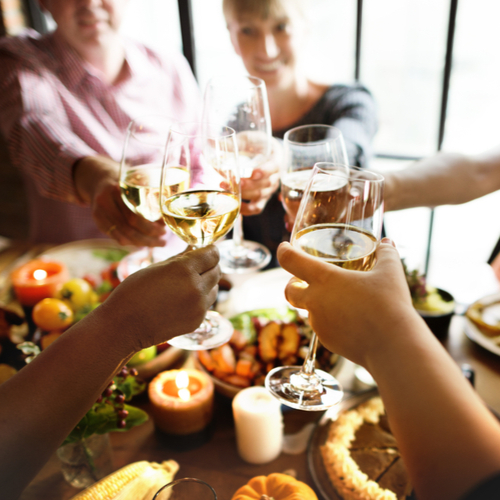 Delegate the Menu
You don't have to do it all alone! Once you've come up with a basic menu, start a group chat and ask your guests to bring their favorite Thanksgiving dish. You can include a poll or sign-up list to avoid duplicates. Those who have food allergies and dietary restrictions should be asked to bring a dish that is safe for them to eat, which ensures that no one is left out from the festivities.
Set the Mood
Etsy and Pinterest have changed the game when it comes to decor and activities. Look up DIY placemats, centerpieces, paper invites, and Thanksgiving mad-libs for each seat. A pumpkin spice candle will really make it feel (and smell) like fall. Get the kiddos together to help with the crafts a few days ahead of time so you're not cutting it too close. A few planned post-dinner games will help create lasting turkey day memories and traditions!
INGREDIENTS
8 cups unpasteurized apple cider

A 3-inch cinnamon stick

10 whole cloves

1 orange, peeled and sliced crosswise

A 2-inch piece of peeled fresh ginger, cut into 6 slices
In a large saucepan combine the cider, cinnamon stick, cloves, the orange, and the ginger and simmer the mixture for 20 minutes. Strain the mixture through a fine sieve into a heat-proof pitcher and serve the mulled cider warm. To keep warm throughout the evening, pour the cider in a crock pot or instant pot and keep on low-medium temperature.
Eat breakfast that day, make sure you stay hydrated throughout, and enjoy an amazing Thanksgiving feast at your Morguard apartment home!