2019 was a banner year for Morguard across the continent! We had successful fundraisers for The Leukemia & Lymphoma Society and Breast Cancer Awareness, and made a positive impact on the lives of young girls through our BeYou campaign. We did our part to help save the dwindling bee population and won awards for our efforts in safety and service. We have seen growth in our communities and in our Morguard Family; from the beautiful renovations at Fifty on the Park in Toronto and 1643 Josephine in New Orleans and the addition of Marquee at Block 37 in Chicago, to our Residential team-building events throughout the year, we are always building towards something better.
We've made many great memories this year at Morguard and we invited our team members to share some of their favorite 2019 moments:

















Morguard has a lot to be proud of over the past year, and we're looking forward to an even better year in 2020. With the start of this New Year, we've made some big resolutions of our own. We resolve to do even more to provide exceptional apartment homes across Canada and the United States. We promise to continue leading the charge on eco-friendly technologies in the multifamily industry. And we pledge to remain steadfast in our efforts to be of service to every community of which we're a part. We asked some of our Morguard team members to share their own New Year's Resolutions with us. Here are a few examples of what they had to say: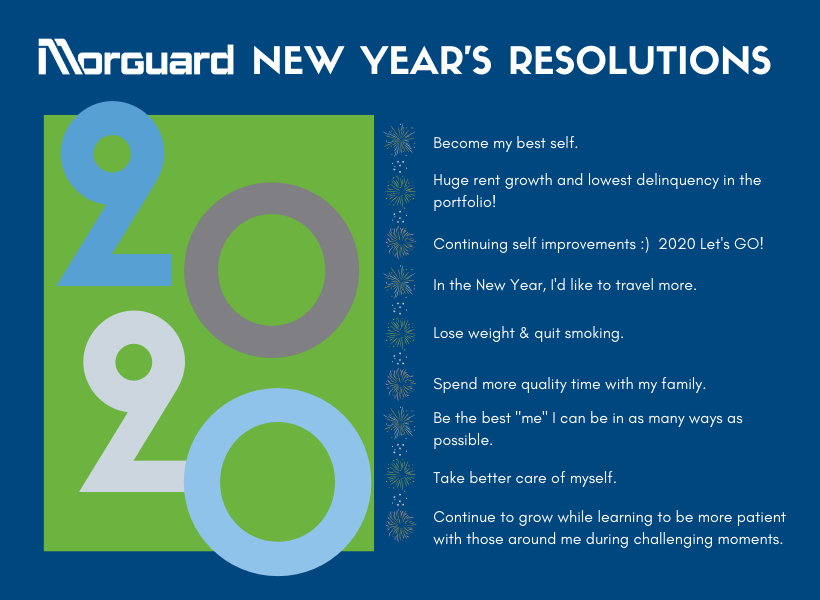 Thank you to everyone who helped make 2019 the amazing year that it was! We want to continue to build a community of laughter, creativity, and passion for our residents and our Morguard teams. If you or someone you know is a good fit for our company culture and currently seeking a new role in apartment or property management, consider a career with Morguard. We look forward to the amazing new team members, partners and residents like you that the New Year will bring to our growing Morguard Family.