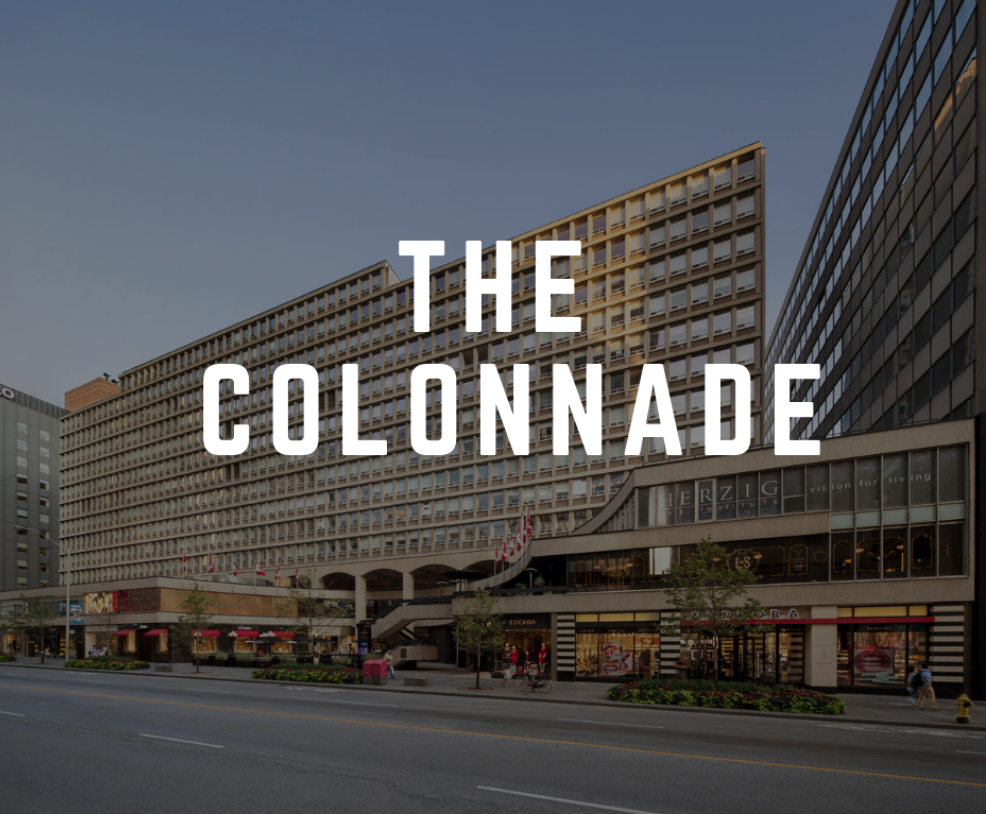 New York has Fifth Avenue. Los Angeles has Rodeo Drive. In Toronto, the most chic shopping centerpointe is in Yorkville on Bloor Street, affectionately known as The Mink Mile. And at the very heart of this elegant stretch of shopping and entertainment lies The Colonnade, a Morguard community.
A Historic Past
The Colonnade was originally erected in 1963 as the first mixed-use development in Canada. The building's design by architect Gerald Robinson was influenced by the popular Brutalist movement of the 1950s and 60s, and features large areas of exposed concrete and a mix of block patterns and sweeping Gothic curves.
The Shops Below
As part of the mixed-use nature of The Colonnade, the ground floors are home to some of the most iconic brands in the world, including Prada, Coach, and Cartier. For those looking for even more shopping opportunities, there are seemingly endless options within a block. The Colonnade is just steps away from Gucci, Burberry, Dolce & Gabanna, Brooks Brothers, Tiffany & Co., and much, much more! With an incredible walking score of 98, it seems like the whole world is just outside the front door.
Luxurious Surroundings
With such opulent neighbors around us, Morguard's Colonnade community has raised the bar on luxury living. Residents enjoy 24-hour concierge and surveillance service, on-site dry cleaning, spa-inspired bathroom designs, and a state-of-the-art fitness center, among other deluxe amenities.
The Colonnade is situated amidst the very apex of culture and sophistication in one of Toronto's hottest neighborhoods. Everything one could need is easily accessible within walking distance, and there is no shortage of parks, theaters, restaurants, and more!
Morguard is always on the lookout for people who want to work where the action is. With properties in most major cities across North America, the opportunities are endless. If you're ready to be a part of a team that strives for excellence, check out our career page and see if an exciting job in multi-family real estate is right for you!